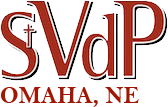 St. Vincent de Paul Catholic School
14330 Eagle Run Drive
Omaha NE 68164
Office: 402.492.2111
Fax: 402.496.9933
Welcome to Literature 7 and 8!

My name is Robin Fosbender and I have enjoyed teaching for past thirty years. The last thirteen years I have been teaching at St. Vincent de Paul School. I am an 8th grade homeroom teacher and I teach literature to the 7th and 8th grade students.
If you have a child in my class, please feel free to contact me if you ever have any questions or concerns. You may contact me by calling the school (492-2111), or you may
email
me.

I feel that it is very important for you to be aware of your child's progress in school. Your student will be assigned a login and password for Powergrade. This will show their daily grades, quizzes, and tests.
If something happens at school that I feel parents should know about, I will either send a note, e-mail parents, or call to discuss it. In some cases, parents may be requested to attend a special conference.
Communication between parent and teacher is essential to a student's success in school. I would like for you to always feel free to contact me.
Literature class is graded by three category points: daily assignments, quizzes, and test/projects. Each category is weighted differently.
Junior High Handbook
Click
here
to review the 8th Grade Curriculum Night presentation