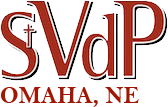 St. Vincent de Paul Catholic School
14330 Eagle Run Drive
Omaha NE 68164
Office: 402.492.2111
Fax: 402.496.9933
¡Hola! ¡Bienvenidos a Español! My name is Señora Maenner and this is my 13th year of teaching Spanish at St. Vincent de Paul. My background is from Argentina. My parents were both born, raised and married in Argentina. All of my relatives are still there I grew up speaking Spanish in the home, and subsequently continued my studies in Spanish. I received a B.A. in Spanish, and a B.S. in Secondary Education with an additional endorsement in English. I started my Masters, but then started having a family so that came first. 2nd graders - 8th graders learn Spanish with me, and K - 1 will learn with Señora Engel. The elementary students will be learning a lot of vocabulary so that when they get into 7th - 8th grades, they will be able to incorporate that vocabulary into sentences and conversations.

7th grade students will learn to conjugate (to change the verb form so that sentences make sense grammatically) at the end of the school year, and 8th grade students will be taught "Ser" and "Estar" (two verbs both meaning "to be") which is very important before entering into High School Spanish! 8th grade students will be participating in a "ME" project/assessment for the Archdiocese of Omaha this year, which they will learn about during the second semester!


Throughout the school year, all grades (2nd-8th) learn the Padre Nuestro (The Lord's Prayer) and the sign of the cross in Spanish, and each grade will also experience a variety of cultural observations, stories, and celebrations which includes games, activities and tasting a variety of foods from different Spanish speaking countries! To see the list of cultural activities, click on the link below for important dates to remember.
When a student is absent from Spanish class, it is his/her responsibility to see me promptly after they return to school for any notes missed in class and other assignments (which are usually worksheets thus cannot be put online). The Daily Work questions will be posted on my web page
after
each class per grade level has answered them in class, so if you are absent you can find those questions online. It is encouraged for Power School to be utilized by the students to "keep up" with their grades, assignments, and missing work. I do write "notes" in Power School when necessary on certain assignments. Study Buddies are great, but unfortunately they are not always reliable, so please check Power School often and/or check with me for any missing assignments or other concerns.
The best way to reach my is by
email
.
I'm looking forward to another great year!!!