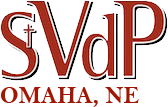 St. Vincent de Paul Catholic School
14330 Eagle Run Drive
Omaha NE 68164
Office: 402.492.2111
Fax: 402.496.9933
Welcome to Mrs. Heitz's Web Page!
Welcome to the Educational Learning Center! This is my seventh year at SVdP and my second year as the Educational Strategist for students in grades 5 - 8. I will continue supporting a number of teachers in their classrooms, and I will be working with individuals or small groups in the ELC. My schedule also includes teaching a 7th grade math class, and an 8th grade HAL literature class.
For those of you who are not familiar with the role of an Educational Strategist, I provide services to students with special needs. I also help students who are struggling with such things as organization, study skills and note-taking. I am happy to help any student who may need assistance, not only those diagnosed with a specific learning disability.
If you would like to contact me click here.
Click
here
for McDougal-Littel- Course 2,
Click
here
for Online Textbook (need username and password from your teacher)