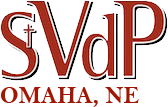 St. Vincent de Paul Catholic School
14330 Eagle Run Drive
Omaha NE 68164
Office: 402.492.2111
Fax: 402.496.9933
WELCOME TO SECOND GRADE! Second grade is a fun-filled environment that allows children the opportunity to engage in learning through a variety of different experiences.
Second grade is a very exciting year as the students prepare for and receive the Sacraments of Reconciliation and Eucharist. Throughout the subject areas, students are challenged to learn new concepts.
It is hard to believe that I will be starting my 24th year of teaching. I don't know where the time has gone. I taught several years in OPS and the rest has been here at St. Vincent de Paul. I have my Masters in Education. Carol Kucera is my full time aide in our room. She is indispensable! She has been here for 20 years.
I am so fortunate that your child will be in our classroom. I am a firm believer of communication, so please contact me at your convenience at 492-2111 or e-mail if a question or concerns arises.
Let's have a great year!!!
2nd Grade News