Making a Difference for Christ: Yesterday, Today, and Tomorrow
The SVdP Story, Illustrated
Click on the icons below to explore the rich history of St. Vincent de Paul School. Editions will be added as they are completed.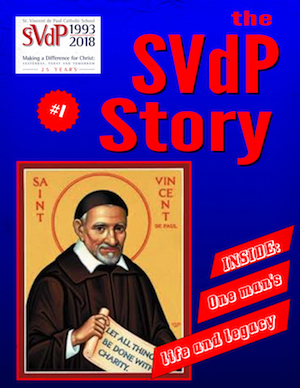 The House That We Built
After initial construction on St. Vincent de Paul School was completed and 5-day and religious education classes were being held in the new building, SVdP students engaged in creating artwork that celebrated all phases of the construction project. Student artwork was combined with staff written text to create commemorative "The House That We Built" booklets.
Some of those booklets have survived the intervening twenty-five years and have been used to create the short video available via the link found below. While individual artists aren't recognized by name in the video, it is worth noting that all of them are in their 30s today, and some likely have children currently enrolled in St. Vincent de Paul 5-day or religious education classes.
Click here for an enjoyable look back.

Upon This Rock
From modest beginnings a quarter century ago, the SVdP parish and school communities have grown rapidly and today enjoy a lovely and functional campus dedicated to making a difference for Christ through quality education, spiritual growth, fellowship, and service.
With the addition of a planned parish center, those mission goals will be enhanced and expanded.